Driving Sustainable Growth Through Strategic Innovation
In today's environment of stagnant markets and hypercompetition, businesses are struggling to stay competitive, stand out in the marketplace and maintain growth. Incremental product improvement, cost cutting and restructuring efforts are not producing sustainable success. Traditional approaches to strategy are unable to cope with rapid rates of change and the high levels of uncertainty in the marketplace. There is a growing recognition that business as usual will not achieve the desired results.
The Provenance Group® helps management teams to develop and achieve growth and performance objectives that go above the trend line. We work with organizations to identify, develop and implement new opportunities that will take the business beyond current results.
We do this by utilizing strategic innovation - a combination of high-impact innovation and opportunity-based strategies to help businesses create true differentiation and competitive advantage. The result is accelerated growth and increased profitability.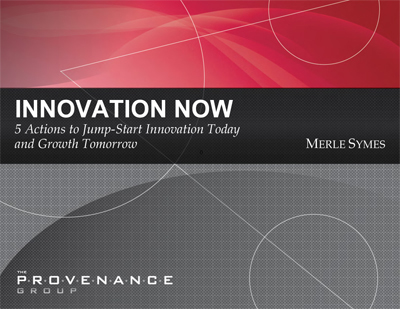 Featuring 5 actions you can immediately implement, whether you have an organization of 10 or 10,000.