Organization Innovation Assessment
The Provenance Group can conduct a full organizational assessment and provide you and your management team with in-depth knowledge of where you stand, what areas are in greatest need of development and what you can do to advance your organization to a higher level of ongoing, consistent innovation.
Upon the completion of this assessment, you will have a clear indication of your strengths and development needs in the following areas:
Management
Checking the Mindset for Innovation
Innovation awareness
Innovation knowledge base
Orientation toward opportunity and risk
Ambidexterity (ability to simultaneously manage bottom line results and innovation)
Innovation leadership
Organizational Culture
Checking the Capacity for Innovation
Attitude toward risk and failure
Adaptability to change
Openness and trust
Communication and collaboration
Tolerance of diversity of ideas
Roving leadership
Structures/Processes/Systems
Checking the Infrastructure for Innovation
Processes for sourcing innovation
Implementation processes for major innovation
Innovation portfolio management
Communication systems
Aligned structures
Aligned strategy and planning processes
Aligned organizational systems

Organizational Abilities
Checking the Skills and Expertise for Innovation
Barriers
Uncovering the Road Blocks to Innovation
The Process
The process is designed to develop a thorough assessment of all key aspects of your organization. The results will give you a clear idea of where your organization is very competitive and areas that need further development. The process is broken down into four straightforward steps.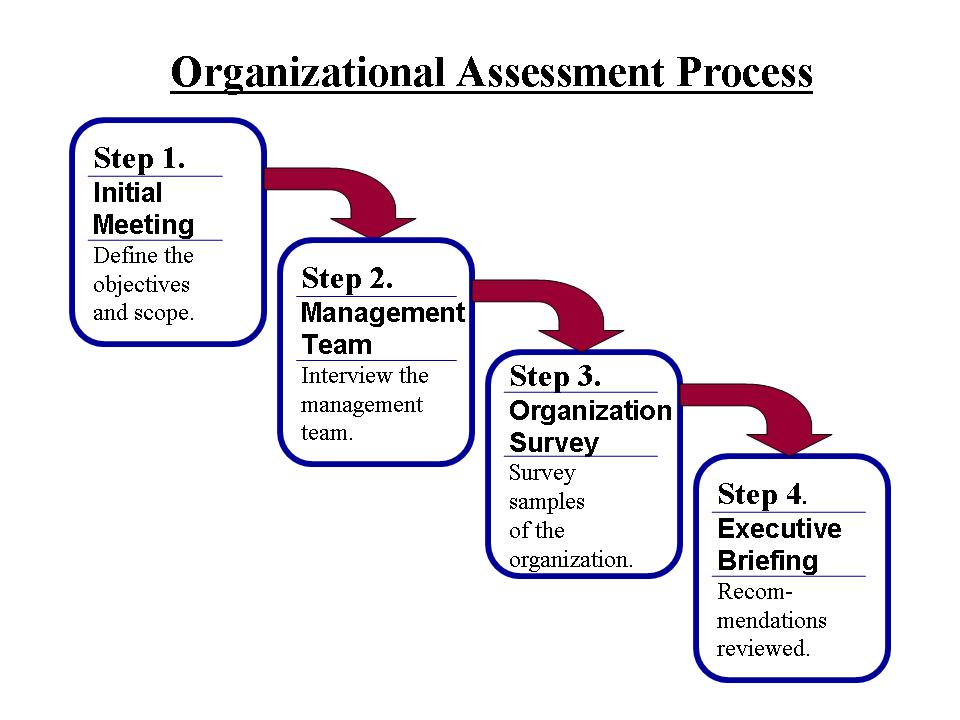 The first step in the path is awareness. A full Organizational Assessment provides that first step.
Feel free to contact us for more information. Contact Us....